The John Ball Trench
Tri-City Herald (?), circa 1949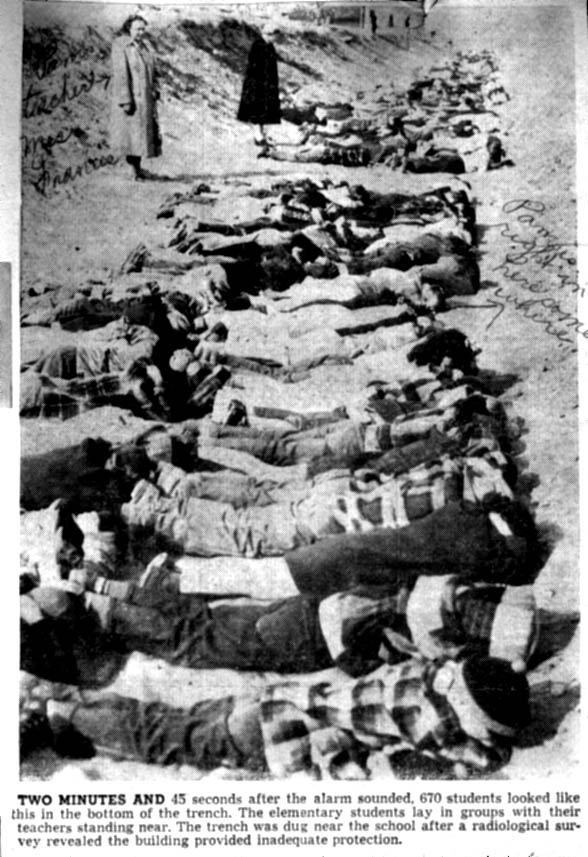 Provided by Tom Matthews (57)
Tom says: "...newspaper photo from about 1949 showing kids in the "trench" at John Ball. Written on the picture is a note mentioning that Pam Konkle, my wife's sister was in the middle of the picture 'somewhere'. Also that the teacher standing on the left was her teacher, Mrs. Francis. I assume this is from the the Tri City Hearld."


--------------------------

article:
"The entire student body of John Ball school in North Richland - some 670 students - was lying flat in the bottom of a trench yesterday afternoon two minutes and 45 seconds after an air raid drill sounded.

The drill was conducted as part of North Richland's civil defense preparation. It was under the supervision of John G. Carriere and Rod Weston, North Richland civil defense officials.

A 600-foot long trench has been bulldozed east of John Ball school for students protection. A radiological survey found the building itself offered inadequate protection from an atom bomb. The trench was dug at the suggestion of James V. LeClaire, principal.

The two minutes and 45 seconds to get the students into the trench included time for them to get out of their seats, grab their coats and march across the playfield to the trench. John Ball school has seven grades and a kindergarten class."









Page started: August 9, 1999
Last update: November 3, 1999
site maintenance

This web page is hosted by
Get your own FREE Home Page