Coat of Arms
~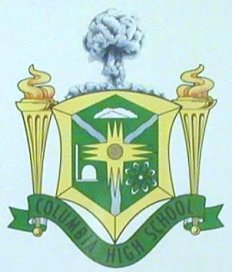 ARMS: (Colors) Columbia High School was established in 1944.

This coat of arms was adopted by the Associated Student Body in 1965.
It is the product of work by many students and faculty members.

School colors are New Gold and Kelly Green.

NEW GOLD -- Signifies brilliant opportunities for precious growth in learning and living activities.

KELLY GREEN -- Signifies youthful fertility of minds and area.

SHIELD AND MANTLING: The sun, the desert mountains, and the rivers - natural resources for abundant growth. The unity of efforts of teachers and students with the knowledge of the past and present are combined for boundless achievements in our world. The eternal torches of scholarship and spirit are related to the atoms and hopes for the future.

CREST: (Top Cloud) The nuclear burst symbolizes the attainments by educated men and reminds us of responsibilities shared by all men in all of life's endeavors and that man alone does not control the forces of this world.







page started: 07/22/02
page updated: 07/22/02
Email the webmaster
COAT OF ARMS