HI-SPOT!!
December 21, 1945 ~ Hi-Spot opened in the W-17 Women's Dorm.




1946 Original location of Hi Spot club - Women's Dorm #17

Original 1946 Hi Spot Representatives



Text from the 1946 Columbian:
The Hi-Spot Club was organized to provide the teen-agers of Richland with a place and means of recreation and enjoyment.
This club is run entirely by teen-agers and is sponsored by the Junior Chamber of Commerce. It is open to any teen-ager who resides in Richland and has a membership card.
At the beginning of this school year, several representatives were elected from each class to meet with the Jaycee sponsors and draw up plans for the organization of the club. This group arranged for all the details needed to open a club. The Hi-Spot was formally opened on December 22, 1945.
In February, 1946, it was decided that the club would be enlarged to include the upstairs of Dorm W-17, as well as the downstairs. Due to this fact and the increased amount of work, several new representatives had to be elected from the student body. Those elected were: Jon Ericson (46), Norma Schick (46), Rowland Griffith (47), Joan Long (47), Betty Sargent (47), Pat Sheeran (48), Pat Doctor (48), Jack Davis (49) and Charlene Quigley (49).



Picture of Hi Spot Dancers from the '46 Columbian

Hi Spot Card of Bob Yale (47) ~ signed by Georgia Jenkins (46)

Sagebrush Follies of 1946 Program
A Hi-Spot activity

Hi-Spot Card of Gloria Davis (61) ~ signed by Sandy Kross (59)
Front and back of card.

Hi-Spot Card of Gloria Davis (61) ~ signed by Walt Steckline
Back of card has Hi-Spot Rules

The following pictures were taken after most of the dorms were
torn down and Hi-Spot was moved to the Community House.

Pictures scanned and provided by Patsy Noble (class of 61)
Click on the picture to see a LARGER version.


Bonnie Kirk and Dick Huske (61) on the left side.
Sort of in front of them is Bill Chapman (60) and Vicky Fitzgerald (?)(61).
To the right is Billye Conley (61) and Doug Hawkins (62)


Click on the picture to see a LARGER version with enhanced background people.


Billye Conley (61) dancing with David Simmons (61).
Dianne Goodenow (59) (gray pants/dark sweater) is to
the right of and just behind David.
Doug Hawkins (?) is behind Billye and to the left
of her head (visible in enhanced picture).


Click on the picture to see a LARGER version.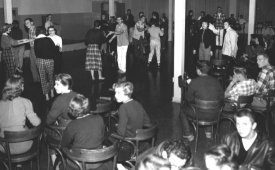 Katie Sheeran (61), plaid skirt, dancing with David Simmons.
Far right is Dianne Goodenow.
The two guys sitting down off to the right in the middle of the page in the plaid shirts are: Doug Lukens (62) long sleeved plaid shirt, and John Sonderland (62) short sleeved shirt.
The guy in the front in the leather jacket is Jerry Solberg (62).
Way in the back on the right side is Randy Free (?)(61) in the plaid jacket.
Sandy Stice (60) might be on the left.
From Janet Wilgus (59): I think that is Penney Smith on the right
and maybe Judy Reese in profile


Click on the picture to see a LARGER version.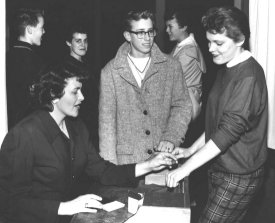 Lynn Dunton (Teacher), sitting. Just over head is Jim Otey (61)
Middle of the picture: Shelly McCoy (63) ?
Getting her hand stamped: Laura Trout (60)
* Note from Diane Goodenow (59):
"Left of Jim Otey - I think it is Doris Taylor (59) - not positive.

E-mail the webmaster if you can identify anybody.

LAST CHANCE HI-SPOT!!







page started: 02/23/99
page updated: 11/21/01
E-mail the webmaster
HI-SPOT WEB PAGE